One-Stop Solution for Versatile Takeaway Containers in Singapore
Hey there, fellow food enthusiasts and restaurant owners in Singapore! We understand the importance of not just serving delicious food but also ensuring it reaches your customers in the best possible way. That's why, at Interwaters, we've got your back with a fantastic range of takeaway containers that are perfect for your needs.
Diversity in Materials:
Interwaters understands that different types of cuisines and dishes require specific container materials. Our extensive inventory includes:
Biodegradable Options: Catering to Singapore's eco-conscious consumers, we offer a variety of biodegradable containers made from sustainable materials like bagasse and PLA. These containers not only preserve the environment but also align with Singapore's green initiatives.
Recyclable Plastics: If your business needs durable, recyclable plastic containers, we've got you covered. Our range of #1 PET and #5 PP containers ensures you have a responsible and reliable choice.
Paper Containers: Versatile and eco-friendly, our paper containers are perfect for various dishes, from sandwiches to salads. They are designed to preserve food quality and minimize environmental impact.
Takeaway Containers Singapore
Takeaway containers are the unsung heroes of the food industry. They keep your tasty creations safe, hot (or cold), and ready to enjoy, whether it's a quick bite on the go or a cozy meal at home. At Interwaters, we take pride in being your one-stop-shop for all things related to takeaway containers in Singapore.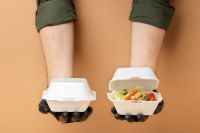 Dive into Our Selection of Takeaway Boxes
Our collection of takeaway containers is as diverse as the food scene in Singapore itself! From classic options to innovative choices, we've got it all:
Takeaway Boxes Singapore:
When it comes to takeaway, we know that one size doesn't fit all. That's why we offer various shapes and sizes of takeaway boxes to suit your cuisine. Whether you're serving up a hearty Hainanese chicken rice or delicate dim sum, we've got the perfect container for you.
Paper Boxes for Food
Looking for an eco-friendly option that's both stylish and functional? Our paper boxes for food are just the ticket. They're not only easy on the environment but also provide excellent insulation to keep your food at its best.
Food Paper Box Singapore:
The food scene in Singapore is incredibly diverse, and our food paper boxes reflect that. From laksa to sushi, our specially designed boxes maintain the flavors and textures of your dishes, ensuring that every bite is as delicious as if it were served fresh.
Read more – Why choose paper packaging for your products?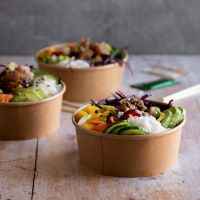 Why Choose Interwaters as Your Packaging Company in Singapore?
Quality Assurance: We understand that your reputation is on the line with every takeaway order. That's why we ensure that our containers are of the highest quality, keeping your food hot, fresh, and spill-free.
Eco-Friendly Commitment: We're not just any packaging company in Singapore; we're committed to sustainability. Our eco-friendly options help reduce the environmental footprint without compromising on functionality.
Customization: We know how important branding is in the food industry. That's why we offer customization options, so your takeaway containers can proudly display your logo and message.
Affordable Pricing: Great quality doesn't have to come with a hefty price tag. At Interwaters, we offer competitive prices to fit your budget.
Order Your Takeaway Containers Today!
Ready to take your food delivery and takeaway game to the next level? Look no further than Interwaters: packaging company Singapore, for your takeaway containers in Singapore. We've got the perfect solution for your every need, from classic to eco-friendly, and we're just a call or click away. Join the Interwaters family and ensure that your delicious creations always arrive in style and taste just as good as when they left your kitchen.